Sustainability and environmental responsibility
We value self-made food and keep up sustainable values. Our customers expect Ilokivi to provide high quality food and an environmentally responsible daily mealtime experience – we deliver both and constantly work to improve.
Sustainability and high quality for daily life and celebration
The entire process of production is ecologically, socially and financially responsible. Using produce from trusted companions and preparing the food on site from basics, it's always ethical and good quality. We hold dear some tried and tested recipes from back in the day and update our menu with new and responsible choices.
Eating out in Ilokivi is always the most responsible choice for your body, environment and budget!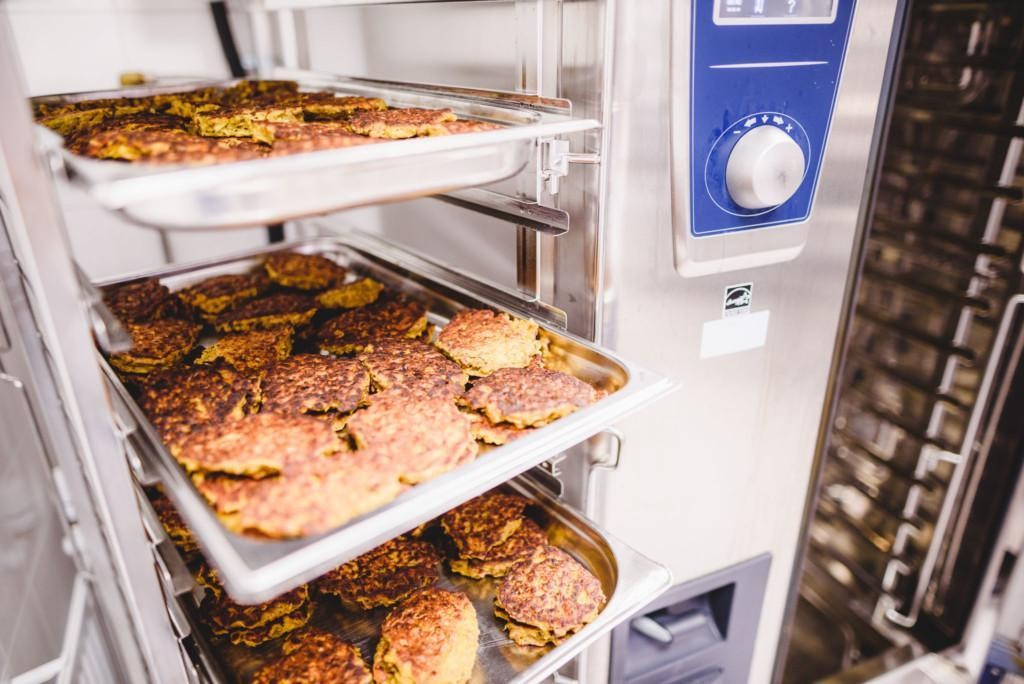 Environmental responsibility in the Ilokivi kitchen
The devices and equipment in the kitchen are energy efficient and intelligent.
Detergents are non-toxic concentrates.
The least possible amount of packaging waste.
The lighting system uses led fixtures with motion detectors.
Cooking devices are programmed to save staff resources and guarantee uniform quality for all lunch customers.
The amount of waste throughout the process is kept to a minimum and surveilled carefully.
Our garbage disposal is carbon-neutral starting from March 2021.
Environmental responsibility in the foodstuffs
We only use organic, free or outdoor eggs in all our products
The origin of all raw material is known
Meat is mostly Finnish, the land of origin is always visible in the list of ingredients
We only use sustainable fish whose production is not harmful to marine ecosystems
Vegetables are Finnish whenever possible, and we also use organic produce
We actively search for low carbon options for the smallest carbon load possible
Environmental responsibility in the Ilokivi products and services
Vegetarian and vegan options are offered daily.
We only serve Fair trade certified coffee.
Our policy is One Plate Only, which keeps the amount of dirty dishes at bay.
Biowaste scales show the customers the amount of biowaste they produce daily.
The amount of waste food is reduced via sales of the leftover food.
Two of the three lunch options daily complies to the exact standards for the student meal subsidy set by Kela.
Our Take away customers and buyers of Leftover food are encouraged to bring their own containers.
Ilokivi co-operates to promote more sustainable food
Ilokivi encourages You to Share Good:
Ilokivi's Values
The Ilokivi restaurant is a part of Soihtu, Business unit of JYY, and our actions are guided by a sustainable set of values. Our goal is to help our customers in choosing a sustainable option every day. We create communality, ease and well-being in the daily life and festive moments of students and city dwellers alike.
Development cooperation lunch helps Nepalese young to gain education
Education is the key to a bright future. In Nepal, not everyone can afford to study. Therefore JYY, together with Aurora Borealis, supports young Nepalese in their higher education studies.
With JYY's development cooperation lunch tickets everyone can contribute to help indigent students with tuition fees, school items and living. With your support, students' talents are not wasted because of poverty.
JYY's development cooperation lunch tickets can be bought at the cashier of Ilokivi restaurant. You can pay a singular fee along with your lunch or buy an entire development co-operation lunch ticket book.
#WeCompensate at Ilokivi
In Ilokivi, you can Compensate your meal
As an Ilokivi customer, you can choose to compensate the carbon emissions of your meal. The compensation payment is decided by the amount of carbon emissions, according to the Compensate model. (Link opens in new window.)
Meat and chicken dishes +0,15 e
Fish and vegetarian dishes +0,10 e
Vegan dishes +0,05 e
Mention at the cashier, if you want to compensate for the carbon emissions of your meal. You can compensate any lunch regardless of the price, Sustainable development lunch and when buying a Lunch ticket book.