Sustainability and environmental responsibility
We value self-made food and hold up sustainable values. Our customers expect Ilokivi to provide high quality food and an environmentally responsible daily mealtime experience – we deliver both and constantly work to improve.
Sustainability and high quality food for every occasion
The entire process of production is ecologically, socially and financially responsible. Using produce from trusted vendors and cooking the food on site, the food is always ethical and good quality. We still cherish proven recipes passed down from back in the day and continue to update our menu with new and responsible choices.
Dining at Ilokivi is always the most responsible choice for your body, environment and budget!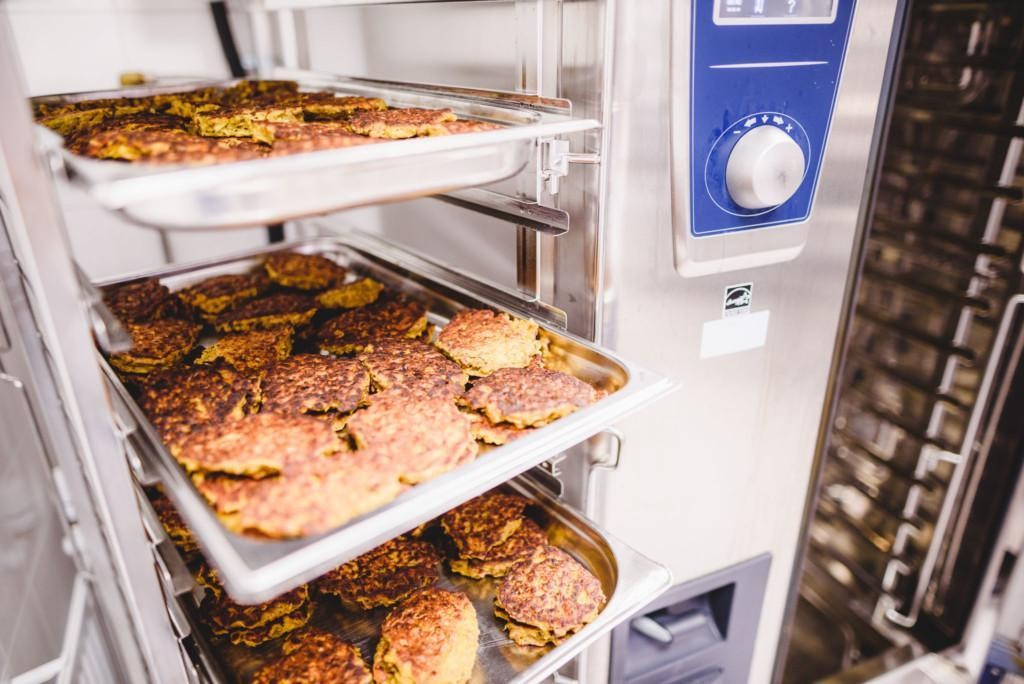 Sustainability in the Ilokivi kitchen
The sppliances and equipment in the kitchen are energy efficient and smart.
Detergents are non-toxic concentrates.
The smallest possible amount of packaging waste.
The lighting system is equipped with led fixtures and motion detectors.
Cooking appliances are programmed to save staff resources and guarantee uniform quality food for all customers.
The amount of waste throughout the process is kept to a minimum and monitored carefully.
Our waste management is carbon-neutral starting from March 2021.
Sustainability of the produce
We only use organic, free-range or free-run eggs in all our products.
The origin of all produce is known.
Meat is mostly Finnish, the land of origin is always visible in the list of ingredients.
We only use sustainable fish from well-managed environmentally sustainable sources. (WWF Fish Guide)
Vegetables are Finnish whenever available. We also use organic produce
We actively pursue low-carbon options for the lowest environmental impact possible.
Sustainability in the Ilokivi food and services
Vegetarian and vegan options are offered daily.
We only serve Fair Trade Certified coffee.
Our policy is One Plate Only, which keeps the amount of dirty dishes lower.
Ilokivi plates serve the recommended portion size of the subsidied student lunch.
Two of the three daily lunch options comply with the strict standards for the student meal subsidy set by Kela.
Food waste is reduced by leftover sales, practical plate size and bio-waste scale visible to the customers.
Our customers buying take away or leftover food are encouraged to bring their own containers.
Leftover sales at Ilokivi prevents wastage
At Ilokivi, food consumption is always estimated as accurately as possible in advance, so that the prepared food does not go to waste. However, if there is food left over at the counter at the end of the lunch service, the leftover food from lunch will be sold after the restaurant's closing time at an affordable price as take-away to customers. Bought in your own container, the price of the leftover portion is cheaper, but the restaurant also has disposable containers for packing the leftover purchase.
Leftover sales reduce the restaurant's wastage, minimize the waste of raw materials and make the customers' dining routine easier. That's how everyone wins!
Ilokivi cooperates to promote more sustainable food
Ilokivi encourages you to pay it forward:
Ilokivi's Values
The Ilokivi restaurant is a part of Soihtu, the Business unit of JYY, and our actions are guided by a sustainable set of values. Our goal is to help our customers make sustainable choices every day. We create communality, ease and well-being in the everydaily lifes and special occasions of students and city dwellers alike.
Accessibility at Ilokivi

The premises of the Student House Ilokivi have been renovated to be accessible in the 2017 major renovation, and there is a lift between the floors of the building available with the help from staff. The street-level restaurant and the downstairs Venue each have a toilet area with wheelchair access and support handles.
Dimensions of the passages: The width of the terrace entrance of the Ilokivi restaurant is 177 cm. At the front door there is a threshold (4 cm) and a ramp. Exterior door width 87 cm, fully open 126 cm. Unobstructed access to the Venue bar counter and in front of the stage via a wheelchair ramp (width 121 and 116 cm). The space has a wheelchair-accessible toilet. Access between the floors is possible via an elevator, which can be reached with the help of staff.
Development cooperation lunch helps Nepalese young to gain education
Education is the key to a bright future. In Nepal, not everyone can afford to study. Therefore JYY, together with Aurora Borealis, supports young Nepalese in their higher education studies.
With JYY's development cooperation lunch tickets everyone can contribute to help indigent students with tuition fees, school items and living. With your support, students' talents are not wasted because of poverty.
JYY's development cooperation lunch tickets can be bought at the cashier of Ilokivi restaurant. You can pay a singular fee along with your lunch or buy an entire development co-operation lunch ticket book.
#WeCompensate at Ilokivi
At Ilokivi, you can Compensate for your meal
As an Ilokivi customer, you can choose to compensate for the carbon emissions of your meal. The compensation payment is determined by the amount of carbon emissions, according to the Compensate model. (Link opens in new window.)
Meat and chicken dishes +0,15 e
Fish and vegetarian dishes +0,10 e
Vegan dishes +0,05 e
Mention to the cashier if you want to compensate for the carbon emissions of your meal. You can compensate for any lunch regardless of the price, Sustainable development lunch and when buying a Lunch ticket book.